Here are photos of a few HLHS baby friends very close to Mary Clare's age that I've been thinking about so often lately.  I've followed their stories from the beginning of their little lives and it breaks my heart to know that they are struggling.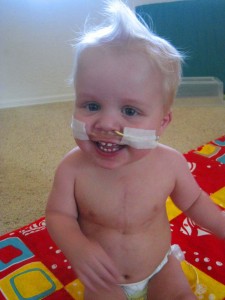 Owen, HLHS baby boy who has had his Norwood and Glenn, but unfortunately must have a brand new heart.   He is currently undergoing chemo treatments to prepare his little body for a heart transplant.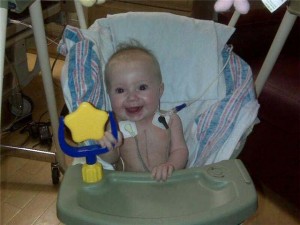 Emma Kate, HLHS baby girl who had her Glenn in January, but is struggling in the hospital right now.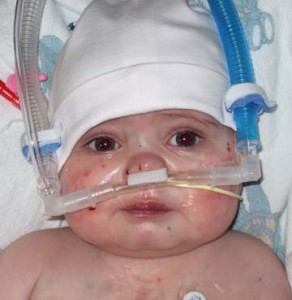 Gracie, HLHS baby girl that just found out last night that she has been listed on a heart transplant list as A1 status.  Gracie was scheduled to have her Glenn on February 12, but it was determined that her little heart is too sick to survive the complex surgery.  She is in the hospital, where she will remain, until a donor heart is found.
Often, I write posts and never publish them on the site.  I have 20 or so posts just hanging out in my draft file that have never seen the light of day.   Some just ranting, some sad, some stupid, most not worthy of the time it takes to read them.  I've always considered writing an outlet, and many times after I write whatever it is that is on my mind, it escapes me.   I wrote one post about a month ago that was just plain venting and really didn't reflect who I am 95% of the time.  It whined and complained, and I wasn't about to publish it.  However, I have had a heavy heart this month, and cannot get that post out of my mind.  Not sure if my "Southern Seasonal Affect Disorder" is actually taking a toll in this long February, or Heart Day got to me, or life itself just got the best of me.  Or, it may be as another  mom quoted this week in regards to her heart baby…  (carrying) "the weight of knowing that it's never over. That it's not something that can be healed with an antibiotic or that is cured. It's a life time journey." Whatever the case, I have decided to publish my venting session.
Too often, it seems that heart children get the raw end of the deal.  Not many people know or understand heart defects, the funding for research isn't there although clearly needed, and the government just doesn't seem to care.  Don't get me started on the insurance issues.  I'm not going to quote statistics.  If you've read my blog, you've read them all.  I just can't seem to stop thinking about all of the precious heart babies that I know and love, nor can I get this post out of my head…
A heart mom venting..it's my blog, right?  (A "Published Draft")

No, Mary Clare's heart is not "fixed." It will never be "fixed." The wonderfully brilliant surgeon that has operated on her twice has "reconstructed" her heart to function as a single ventricle because the left chambers of her heart didn't form completely. The left side of her heart did not work when she was born. She would have certainly died within hours if left untreated. She was born with HALF of what we have as heart healthy people… among many other heart defects all grouped together to be called Hypoplastic Left Heart Syndrome. Two chambers instead of four. Her heart functions with two chambers, not four. She will never have four.
She is blue. She has extremely low blood oxygen levels. Which is why she is out of breath often and her hands are purple. Her blood is mixed. Our oxygen rich (red) and oxygen poor blood (blue) is separated. Hers is not. She only has a half of her heart, and therefore it can't hold oxygen rich and oxygen poor blood in separate areas.
I'm not "venting" about all of you who read this blog because, chances are, if you are reading this, you know all about Mary Clare's heart. I am so very grateful for all of the wonderful friends and family who continually pray for our sweet Mary Clare; but at the same time, I become so frustrated with others who don't have a clue. I think when others see Mary Clare, they see a completely healthy looking baby girl that seems to be fine, thus "Dumb Goggles" emerge. " By this I mean people will ask the dumbest questions without thinking at all before speaking. Don't get me wrong, I love to talk babies and I love to talk heart, so when others ask me about Mary Clare's heart condition, I'll go to town! Ask away!
Don't pretend that you know what is going on with her, because half of the time, I don't. Don't tell me that this third and final surgery can't be that bad, as bad as the first two surgeries. It is heart surgery. I know she has already been through so much, but this final surgery is equally as invasive and risky. It is a huge deal. She is a baby. A baby that has heart catheterizations, chest x-rays, feeding tubes, nasal cannulas, EKG's, echo's, blood pressure medications, diuretics, pain meds, two open heart surgeries. She has been intubated, paralyzed and had multiple chest drain tubes sewn into her, more IV's than most adults will ever have, more blood drawn and the most beautiful scars that remind me to thank God everyday for it all. No, she hasn't just had a valve replaced, or a hole mended. Her heart was cut on, stitched up, moved around a bit…reconstructed! TWICE, and one more to go, at least. The doctors make her heart work. They work with what they have, which isn't much. For each surgery, they stop her heart and put her on a heart lung bypass machine. They have to cut into her precious baby skin and saw open her sternum, then cut, stitch, operate on her heart. We will forever monitor her heart, her oxygen levels, her heart function, her health.
I thank God everyday for sending my precious angel to me and for giving me every moment He does with her. I love my heart baby. I adore my precious heart baby.   If I had a choice, however, I would never want to be a heart mom. I would love for her to be just as healthy as other babies, but this is the path that was chosen for us. I am a heart mom. She is a heart baby.  My precious, loving, determined heart baby.  My hero.  It is a big deal. It is a HUGE deal. So, I'll talk about it until I'm blue in the face (to match hers) and I'll make a big deal about it!
Obviously, I was a bit perturbed.  Sometimes it just helps to say, in so many words, "It isn't fair."
14 Comments
Leave a Comment