MC's Heart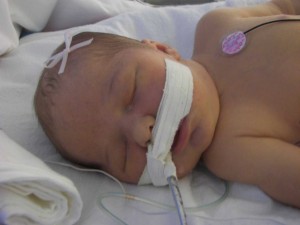 July 1, 2007 -Four days old, one day before her first open heart surgery, the Norwood.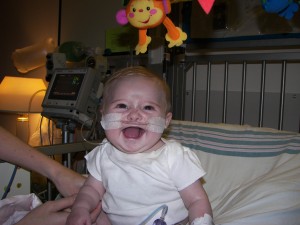 December 2007-6 months old, days after her second open heart surgery, the Glenn.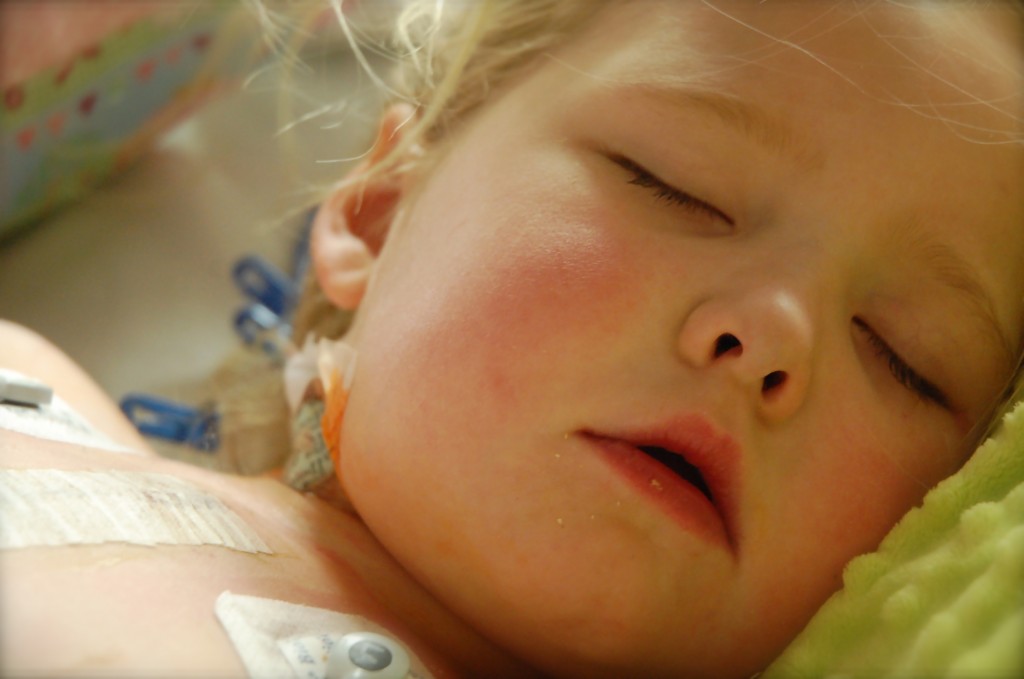 March 2011-3 1/2 years old, days after her third open heart surgery, the Fontan.
On March 27, 2007 at a routine check-up and ultrasound to determine the gender of our unborn child, my husband and I were told that the tiny baby girl growing in my belly had Hypoplastic Left Heart Syndrome, which, at the time, sounded Greek to us. We walked into the office giddy and excited, but returned home feeling empty, alone and completely terrified.
Hypoplastic Left Heart Syndrome is a congenital heart defect (CHD) in which the left side of the heart doesn't form completely. We later learned that with this diagnosis, we had three options: 1) Compassionate care, in which our baby girl would be born and given medications to ease her pain and allow her to pass away quickly and quietly 2) terminate the pregnancy, or 3) have a series of three staged surgeries that would not correct her heart defect, but allow her to live. The surgeries were fairly new ground in the medical world and were extremely risky. There was no doubt as to what needed to be done. We prepared ourselves as best we could for the arrival of our baby girl and the long road ahead of us.
Mary Clare Blaylock Pennington was born on June 27, 2007 at the Medical University of South Carolina. I barely got a glance of her chubby cheeks and red pouty lips before they carried her away from me. She immediately needed the team of pediatric cardiologists and specialists far more than needing her mother at that point. Later that night, she was given medications to paralyze her because of complications with another medication to help keep her heart valves open, which was keeping her alive. She was medically induced paralyzed and intubated for 5 days before her first open heart surgery, the Norwood. On July 4th, as fireworks exploded in the night sky outside, our baby's chest was closed and the long road to recovery began. We were able to bring our sweet baby girl home for the first time on July 20th, finally.
On December 6, 2007 when Mary Clare was 5 months old, we returned to MUSC for her 2nd surgery, the Glenn. She did exceptionally well and was sitting up in her bed laughing and charming the nurses merely 2 days after open-heart surgery! We returned home after only 6 days this go 'round!
Mary Clare had her Fontan procedure to finish out her single ventricle anatomy on March 30, 2011.  She did exceptionally well during and after surgery and had a speedy recovery.  When we were discharged on April 10, less than two weeks later, we decided to have brunch at one of our local favorites, Fleet Landing.  Mary Clare had a seizure and we were back at the hospital to begin her journey with epilepsy.
We continue to monitor Mary Clare's heart function and oxygen levels pretty closely as we always will, but she has been doing exceptionally well, and hopefully will be able to engage in most activities that children love. With God's grace, she will continue to amaze us with her feisty will to survive and love of life! She is certainly our miracle baby! We are so blessed to have her in our lives and we thank God everyday for every moment He allows us to spend with her.
Our heart journey is documented beginning in December 2006 when we announced the news of our second bundle of joy.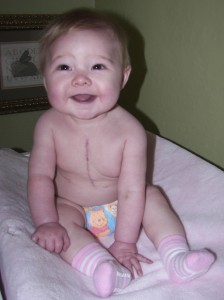 February 14th, 2008, CHD Awareness Day!  (8 months old)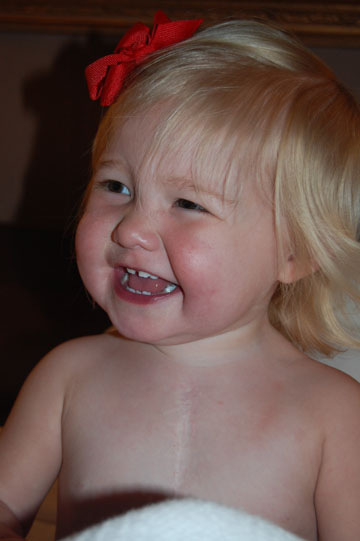 February 14, 2009  (20 months old)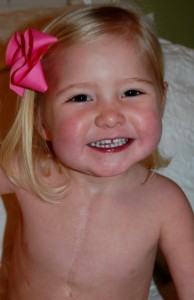 February 14, 2010  (2 1/2 years old)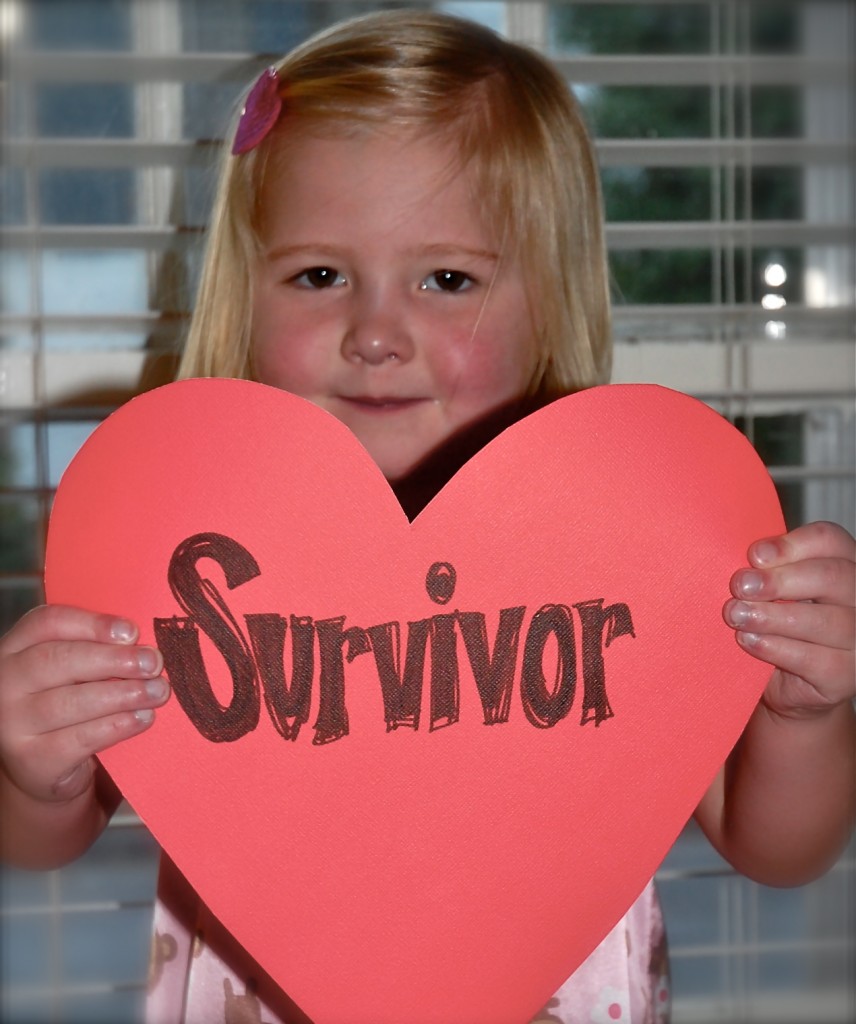 February 14, 2011 (3 1/2 years old)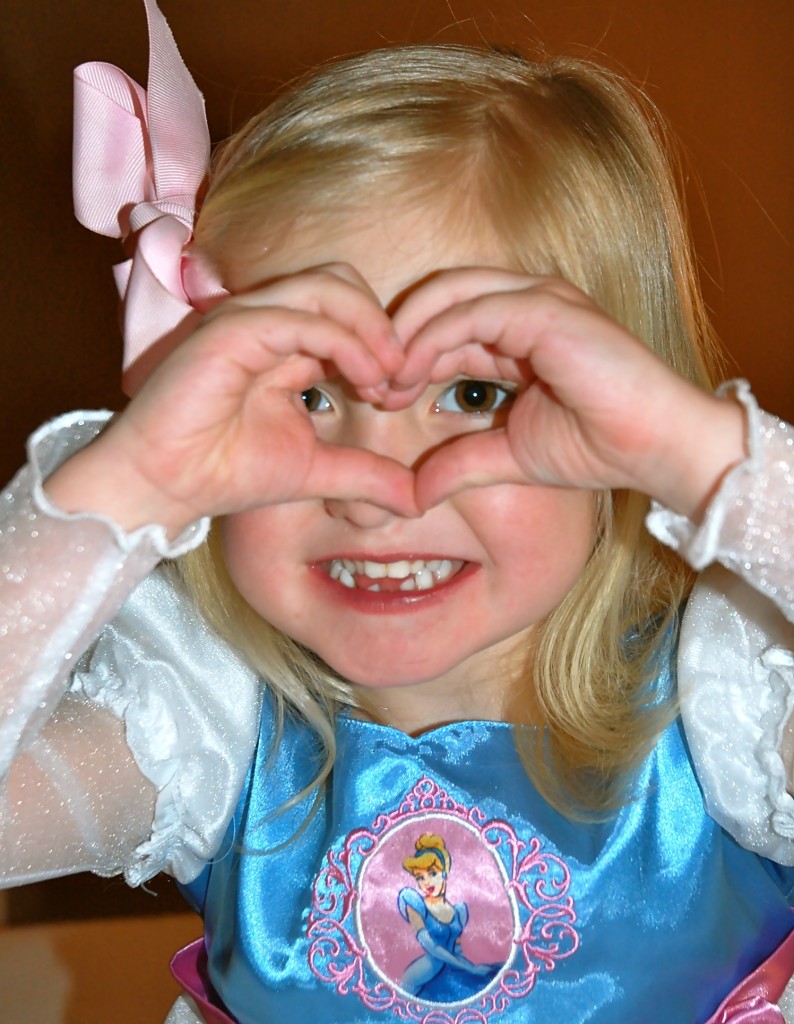 February 14, 2012 (4 1/2 years old)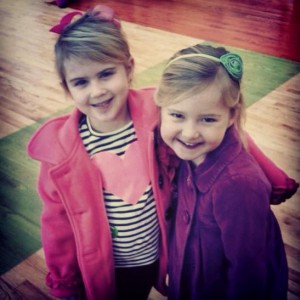 February 2013 Emerson and Mary Clare (5 1/2 years old)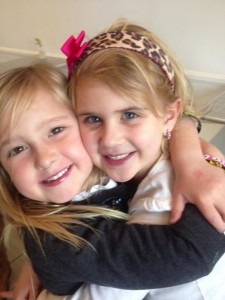 February 2014 Emerson & Mary Clare (6 1/2 years old)
Our HLHS friends…
Emerson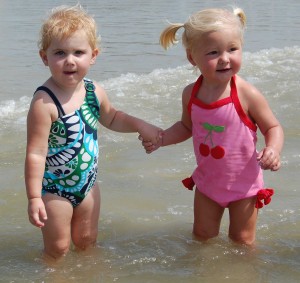 Maddie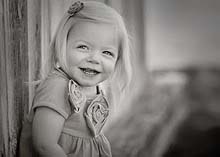 Owen
Annabelle's Baskets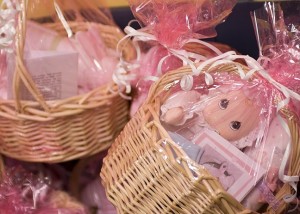 39 Comments
Leave a Comment
You must be logged in to post a comment.