Kerri & Mel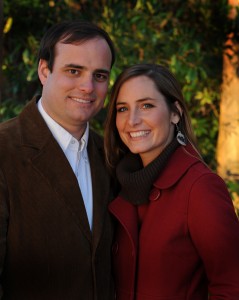 Believe it or not, Mel and I met before I was even born. Call it small town fate, but at age two, Mel inquisitively stared at my mother's swollen 9 month belly only to be told by his father that I was a basketball hidden beneath her shirt. Mel grew up with his mother in Columbia, an hour from Hartsville, and we never managed to officially meet until college despite the fact that he was in Hartsville every other weekend and summers with his dad. I was a sophomore at USC when he walked in Senator Saleeby's office, a new page I was to "show the ropes." He was assigned to be a floor page, and I worked in the Senate office. We had lunch that week at Immaculate Consumption on Senate Street, and our first official date was to KA's Parents Cocktail that weekend. A friend of mine from the Senate "warned" me about Mel and told me to ask about his trick tooth. I later discovered that my friend, Graham, was Mel's best friend, and Mel had knocked out his front teeth several times. He was famous for his bar trick of seemingly knocking his tooth out with a beer bottle.
After our first date, his parent's cocktail, we drove 2 1/2 hours to the battery in Charleston to watch the sunrise. We sat in a little coffee shop all night talking and learning all we could about each other.
10 years after that first date I wrote on March 29, 2007: It's funny how life can take you full circle, you just don't always realize it until it smacks you in the face. Wednesday morning, as I rushed into a small coffee shop in downtown Charleston to grab OJ and a bagel, I realized all of a sudden that I was in the exact same spot I had been in exactly 10 years ago, in March and with Mel. Completely different circumstances, back then he and I had gone on our very first date to his fraternity Parent's Cocktail Party, had been out with friends, and it was his idea to drive over 2 hours to Charleston that very night to see the sunrise on the battery, a romantic gesture that seemed to be a great idea at the time. Around 8 am that morning still donning cocktail dress and dark suit, we sat in that same small Charleston coffee shop discovering all that we could about each other. Yesterday, what brought us to that spot was the simple fact that we wanted to grab a bite before heading to MUSC to begin a long day of doctor's appointments, fearful realizations, and the beginning of another very long journey together. Married, with a child, another on the way, and many milestones later, we were back, here together. (I was writing about a journey that would forever change our lives.  It was the day we discovered the road our Mary Clare would take us down.  It was our first appointment at MUSC and the day we met the doctors that would save our baby girl's life.)
After a double graduation from USC in 1999, we took at trip across Europe and, much to my surprise, Mel proposed at the top of the Kolner Dom Cathedral in Cologne, Germany. A huge Southern wedding in May 2001, a feisty baby girl born 4 weeks early during the South's worst ice storm in 2004,  the trials and tribulations of our second born baby girl with half of a heart in the summer of 2007…and the tenth year of our marriage and the heaviest year of our lives to date, with open heart surgery and Epilepsy diagnosis for Mary Clare and breast cancer and chemo treatments for me, all in the year of 2011… a fourth generation funeral director entrepreneur, small town mayor with too much creativity and not enough time and a full-time Mommy just trying to keep up with my crazy, passionate family…
6 Comments
Leave a Comment
You must be logged in to post a comment.