So, when I say I was a little disappointed when McCanless never showed an interest in cheerleading, I'll have to admit, that was a slight understatement. I "get" how excited all of those "football dads" are when their little tykes show an early interest in a sport they loved as children. I swore I would never try to persuade my children to do anything other than what their own heart desires.
Secretly, however, I would have loved a cute little cheerleader with a big bow! (Little did I realize that both of my children could never, in a million years, be coerced into anything!  Certainly not something they had no interest in.) Sure, I asked McCanless if she might like to try cheerleading "like her mommy once did," but it never worked. And in all fairness, we tried to introduce many other extracurricular activities. Mel was a super athlete, believe it or not, and even took piano. We tried soccer, cheerleading (for a brief, failed stint) and piano. Dance is her thing. Which makes me happy. She loves it.  I loved it as a child, and she's really good at it. (And we have still plenty of time for her to find other interests, maybe even cheerleading one day! Wink.)
Mary Clare is in a little pre-ballet class, but I'm not so certain that dance will be her thing. She loves the costumes and loves to dance. But in her 45 minute class, she spends more time staring at herself in the mirror doing Lady Gaga moves and kissy faces than she spends in first position. I laugh as her classmates just tip toe around her, as she shakes her head and spins a little too quickly, doing her own thing. Certainly not like a little ballerina should. Sure, she's graceful, but on her own terms. She twirls when she should be still. She kicks when everyone else is plieing; very much how my little spit fire lives life right now.
Recently, when a neighbor asked her if she would like to join a cheerleading team, she squeeled with excitement. (I was secretly thrilled.) So, we bought the pom poms, the uniform, and went to scheduled practices, which were all behind closed doors.  The morning of her first game, we were all so excited to see the new "Kitten" cheerleader for the first time. Go Kittens!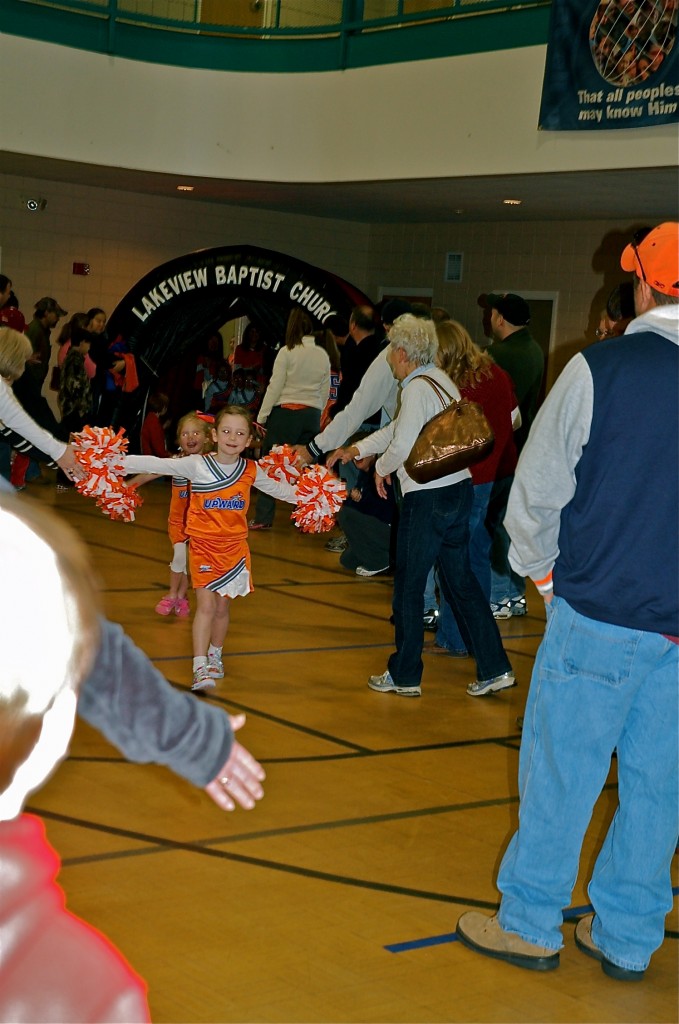 She nearly ran over Kaiti, who was in front of her, as she ran down the tunnel of spectators. Do you see how excited this girl is? She was laughing the whole way!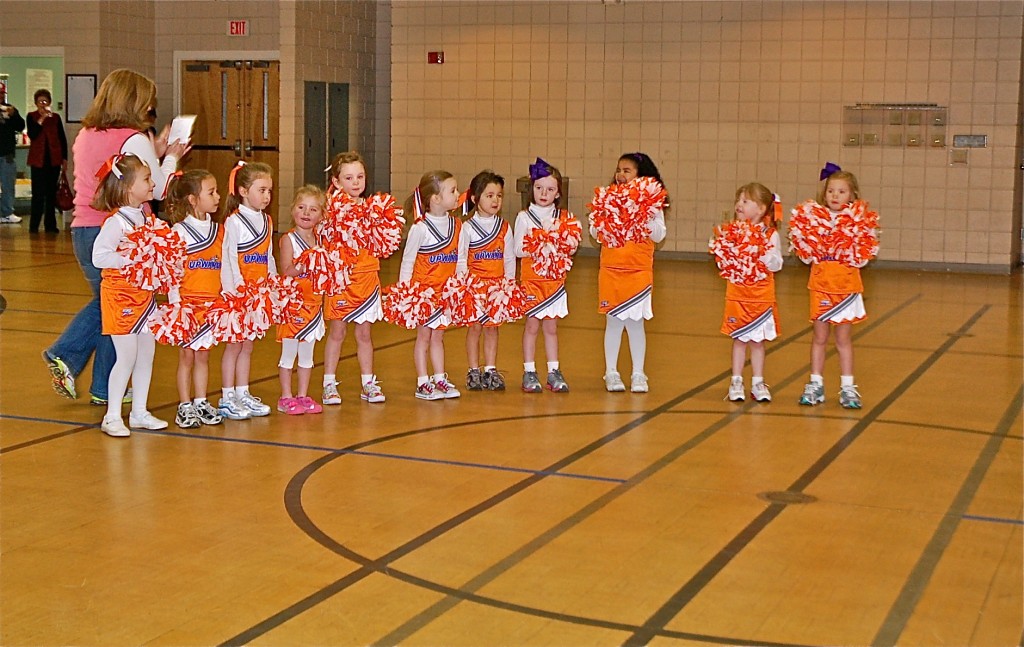 (She insisted on not wearing a shirt under her uniform that morning, along with her pink shoes and leggings. She actually didn't like the orange uniform and wanted to wear her green Thomas Hart Academy cheerleading uniform, so I didn't argue with her about the shirt and pink shoes.)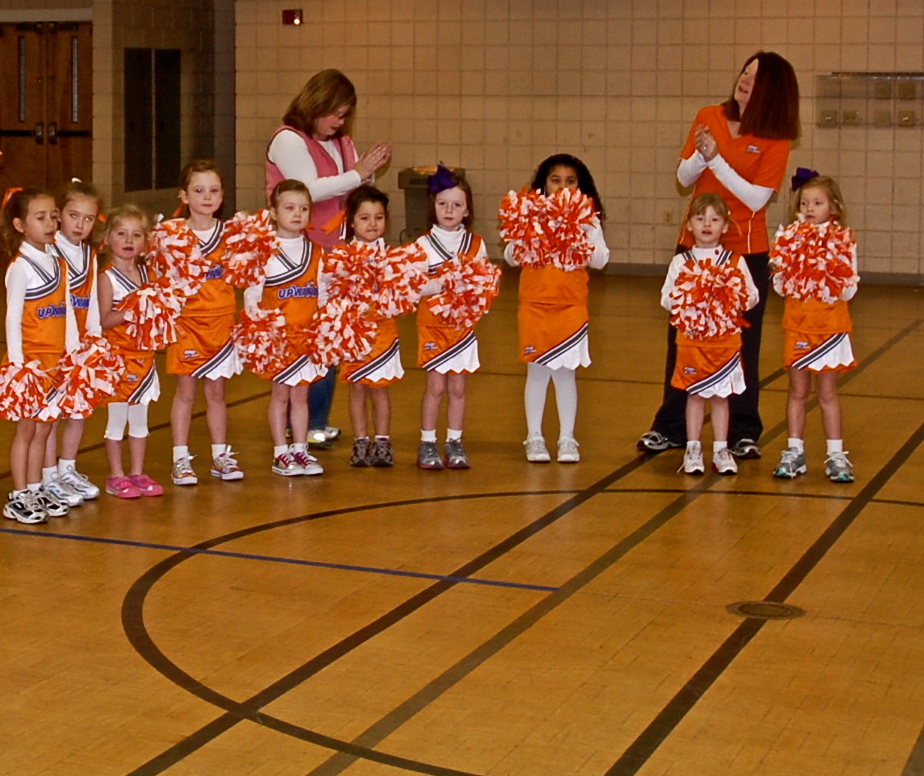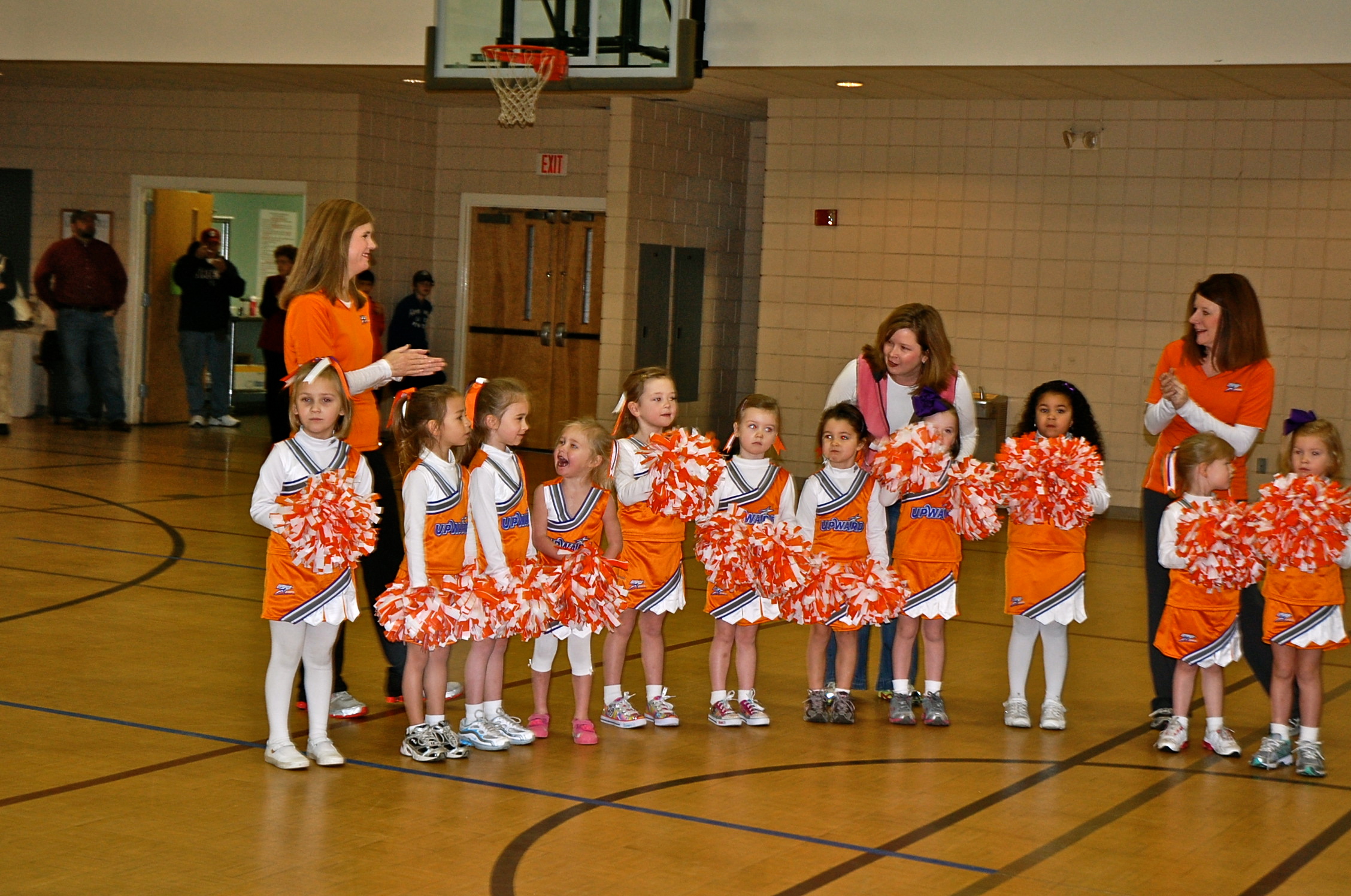 Once the cheerleaders were introduced, they disappeared for the first half of the game and were to come back out at half-time for their performance. At this age, they are only required to cheer for the second half of the game, which turned out to be a good thing, in MC's case.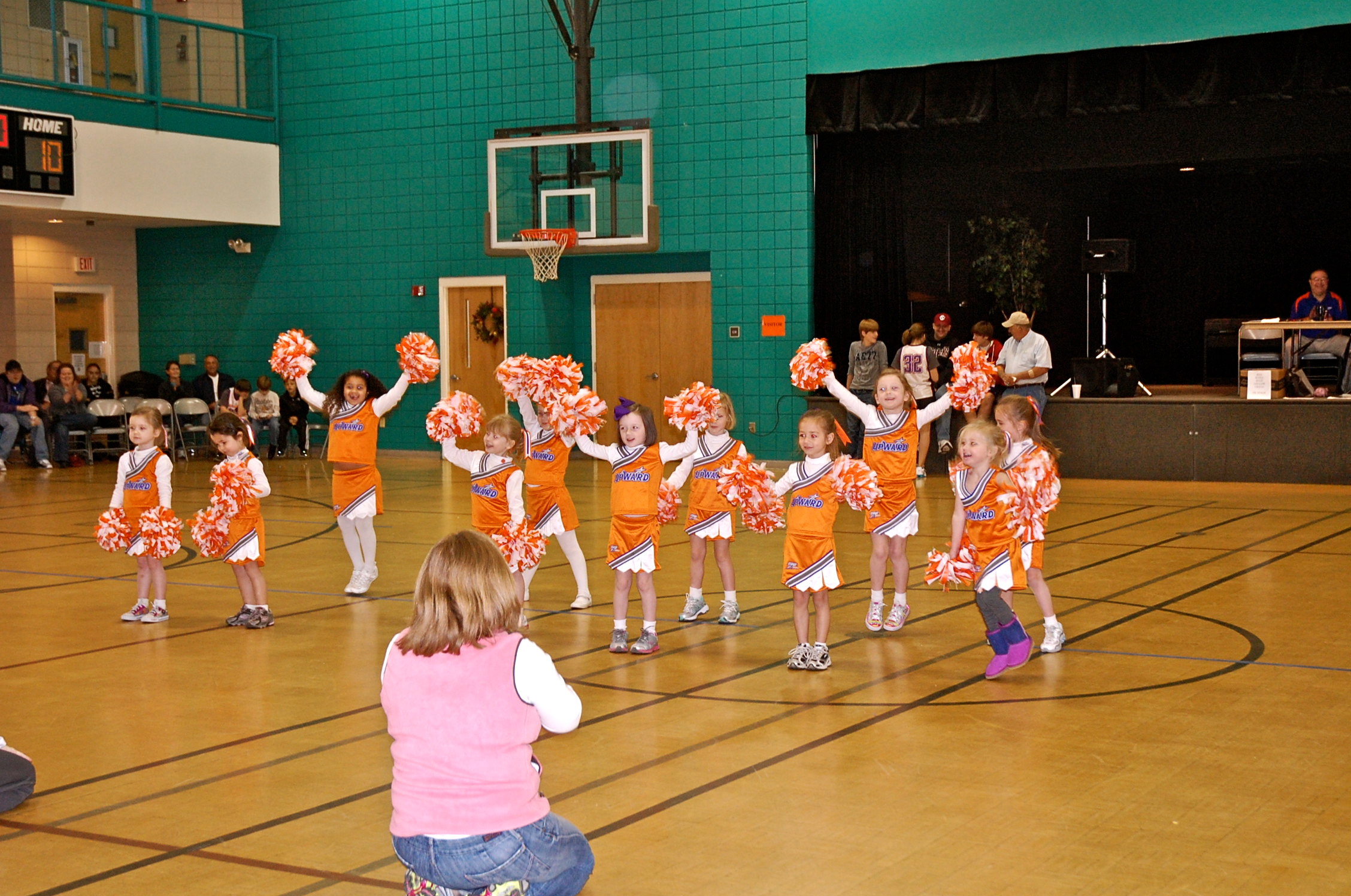 When she came running back out on the court, she had changed into her gray leggings and Uggs.  Typical MC.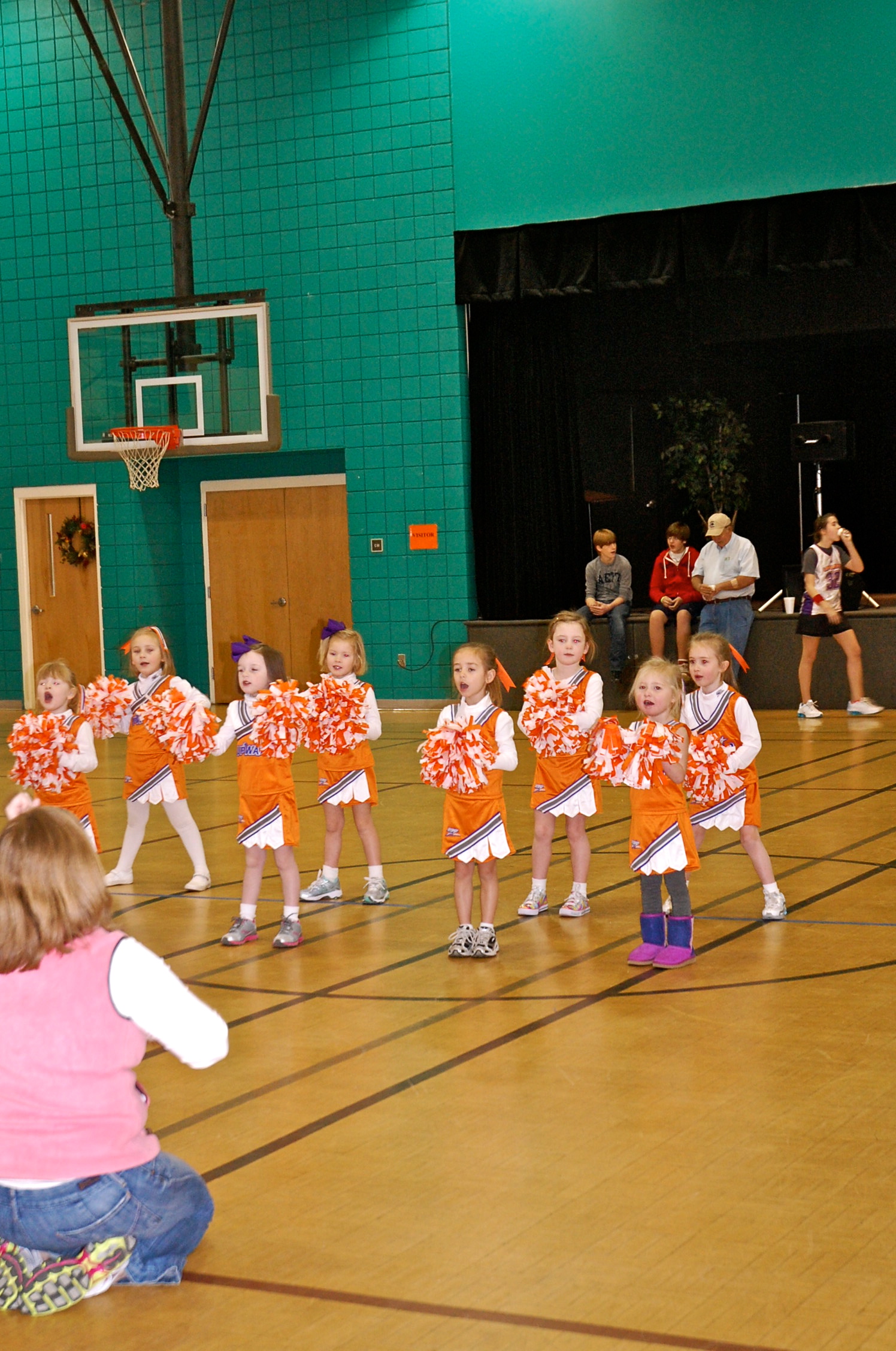 After this photo was taken, the girls assumed position on the sidelines, ready to cheer on the team! Mary Clare loved the gym, the people, the noise.  She adored the uniform and pom poms. Cheering for her team?  Not so much. She cheered for a few minutes, then wanted a water break, a bathroom break, was mad at me for forgetting her megaphone and eventually sat down until it was her turn to call a cheer. She did stand and cheer for that one. I sat down behind the mini-squad and she sat in my lap and cheered from there for the rest of the game. So, we'll see if this is her thing or not. Maybe we'll just keep the uniform for the dress-up trunk.  That way she can be a cheerleader whenever she wants, or not. I think I may have an actress on my hands.
5 Comments