We are in our favorite city (outside of Hartsville, of course) and we've settled into our typical MUSC routine quite nicely already.  It's amazing how it all comes back to you.  We knew we'd only be admitted for a short while, but I guess as creatures of habit, we've hardly missed a beat.  We wake, order MC's breakfast, shower, check out morning plan (echo, chest x-ray, etc.), visit Atruium, take meds, get on computer and update website, order lunch, etc.
We've had visits from some of our long-time nurse friends, Laura, Joy, and Brenna.  Joy was Mary Clare's very first nurse in PCICU after birth. We laughed together last night remembering how she had to use gel to stick a tiny pink bow to Mary Clare's head.  Mel has also had fun joking around with (tormenting) a few of the docs that have followed MC.  Dr. Hlavacek, who did my fetal ultrasound diagnosing her HLHS, Dr. Hamilton Baker, who has been her cardiologist and yesterday performed her cath, Dr. Andy Atz, who has followed and researched MC's case since birth and of course, Dr. Geoff Forbus, MC primary cardiologist.  They've all become our friends.
MC had a scheduled heart cath yesterday.  She also had her fenestration closure.  And once again, in my non-medical terminology, I'll try to explain it.  (I actually listened as Mel explained it yesterday to a friend and he did quite well.  I should have him do this.)  So, a fenestration is a hole intentionally left in the heart after the Fontan procedure.  The new circulation after her Fontan created added pressure, in which her little heart and body weren't quite ready for.  Dr. Bradley left the fenestration (hole) to release some of that pressure with plans to close it when her body was ready.  Generally, this procedure is done about a year after surgery. We have been a tad busy this year, so it's been 18 months for MC.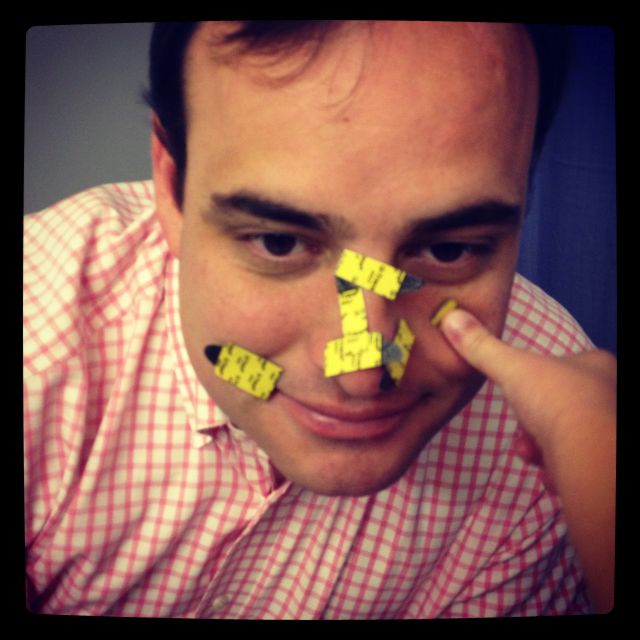 MC placed her EEG stickers on Daddy's face.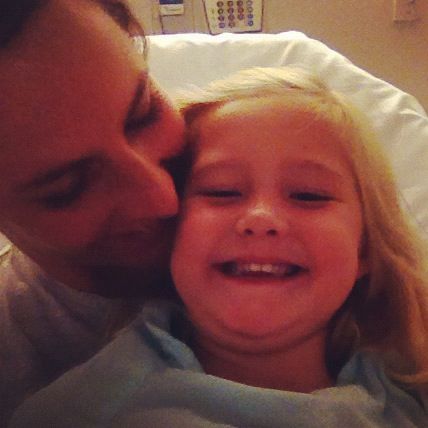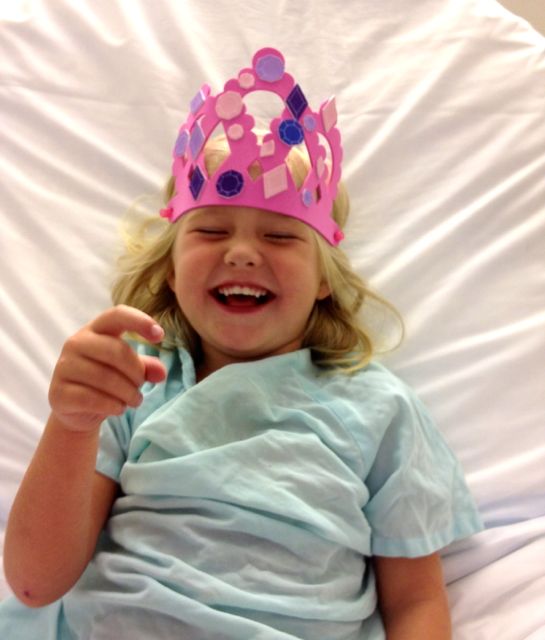 MC laughing at her "Fuzzy Little Caterpillar" after taking her "Happy Juice" (Versed) before they wheeled her back.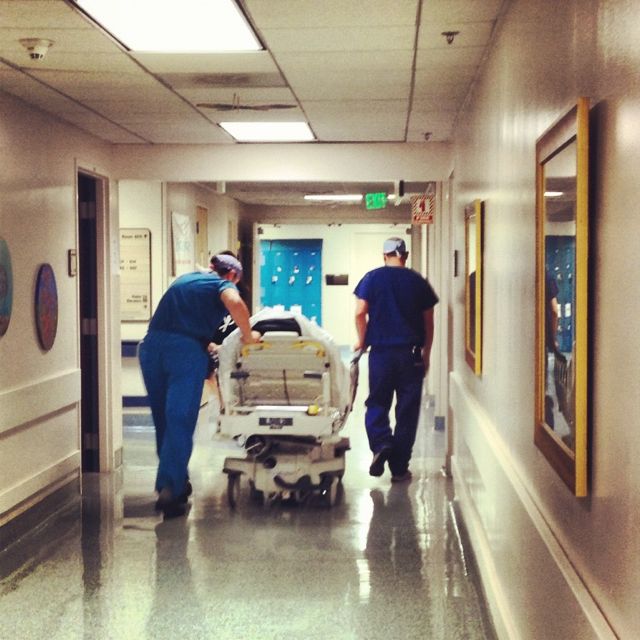 This is where it hits me.  Every time.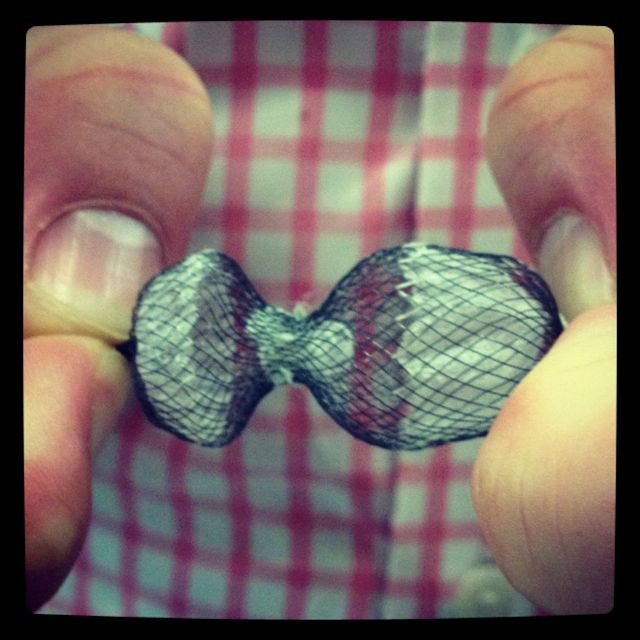 The amazing thing is how they actually "plug the hole."  We were shown a sample device exactly like the one that was used in MC's heart. (Mel is stretching it apart in the photo above.  It can actually stretch out into a tiny tube.)  It's made of mesh and metal material.  It's threaded through the cath tube and popped into place. Once it's where it needs to be, they release it and it flattens.  Tissue will eventually grow over the mesh material, making a tight seal.  That's just crazy to me.  Right now some blood flows through the mesh material, creating a tad of mixture of O2 rich and O2 poor blood.  Still, her Oxygen saturation levels were in the mid 90's.  She's never had levels so high!  Once tissue grows over the patch and completely seals off the fenestration, she'll have even higher levels!!  I hope Ms. Chure is ready for a higher energy Mary Clare.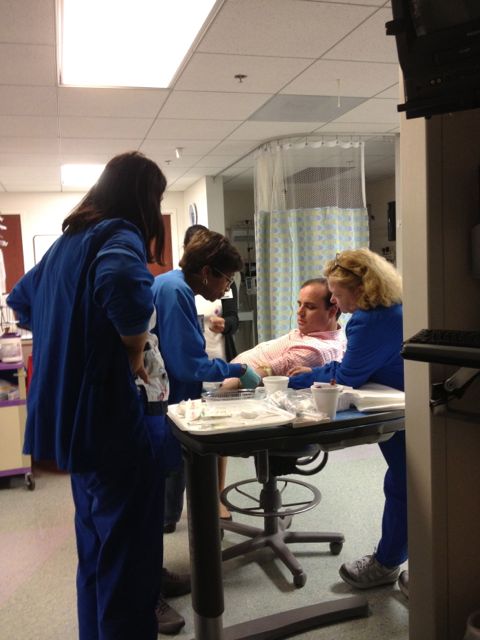 How many nurses does it take to help Daddy?  Daddy nearly fainted as the nurses tried (using an infant needle, I think) to draw a tiny vile of blood for genetic research.  Mel and I have been participating in research studies since Mary Clare's birth.  We realize that the information gathered may not help Mary Clare now, but we feel sure that one day CHDs will be a thing of the past and findings may help her future.  My grandfather had a blue baby over 50 years ago.  He selflessly gave his son's body to be used for research. The knowledge and information gained from Mary Clare's great uncle helped discover ways for her to live and thrive.  I know it makes a difference.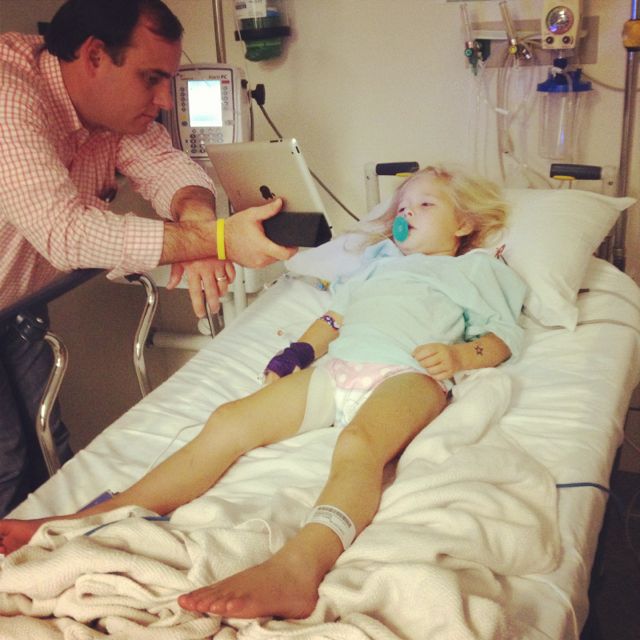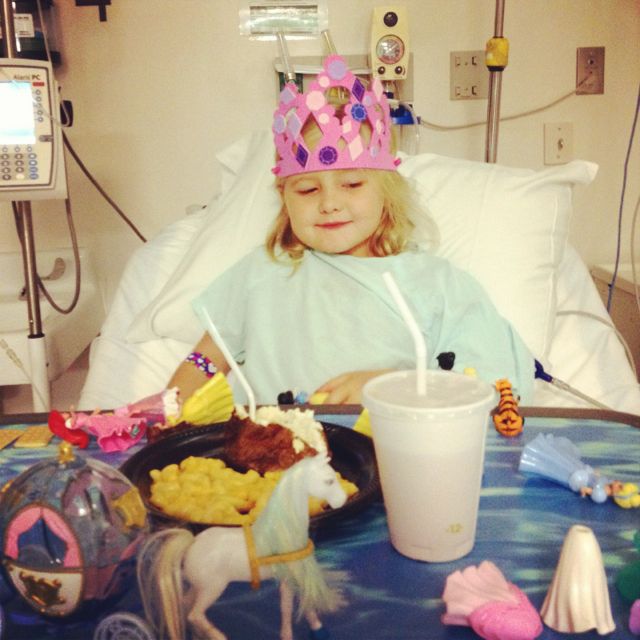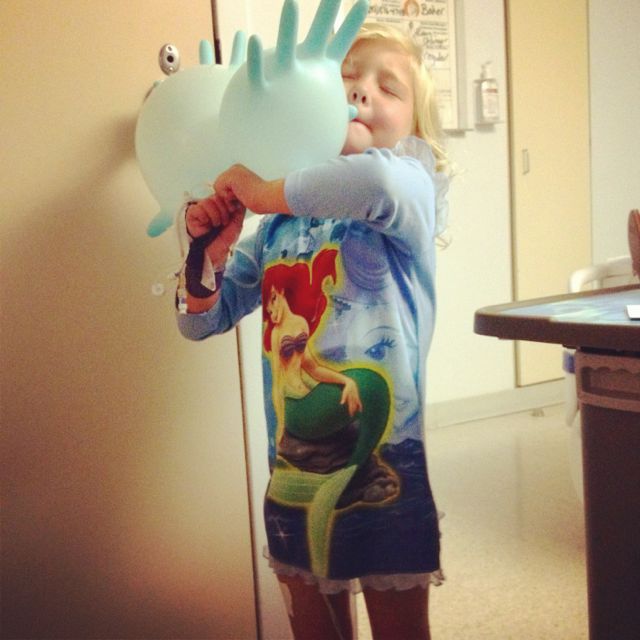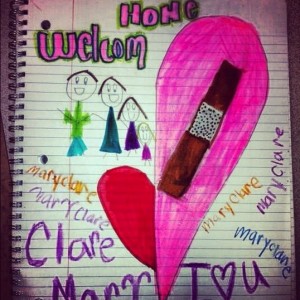 (A note to MC from McCanless)
This morning, we were invited to Camp Rise Above in the Atrium.  MC walked into the familiar playroom a bit timid.  Once she met the smiling faces of the staff and saw the activities waiting for her, she took off with her telemetry monitor dragging behind her detaching a few leads as she ran.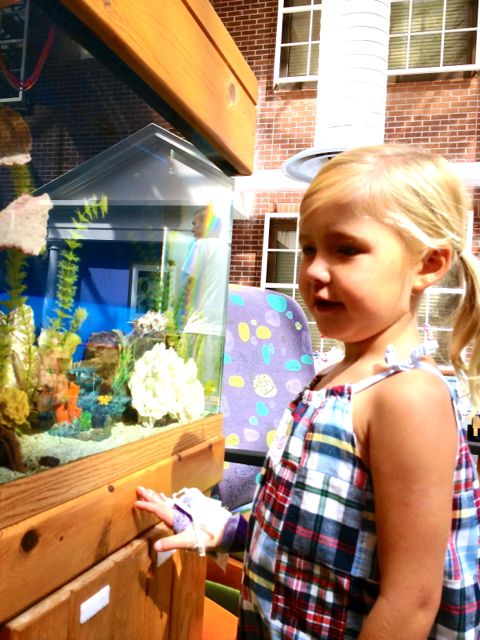 As we sat and played with the doll house, I noticed several other children.  One little girl clearly going through chemo, another tethered to an IV pole.  And while Mary Clare had a long day yesterday, she was feeling fine today with only leads and IV to show for her time here.  Memories and emotions came flooding.  Images of my three year old  barely able to hold her head up, sitting in her wagon trying to paint in this very room filled my mind.  I thought of the very night we were air lifted after seizures, we came to the Atrium to wait on Daddy.  As an infant, I walked her into this room to see the bright sunshine and listen to the older children's laughs.  Amazingly, today Mary Clare was the healthier one. The Atrium has watched her grow and heal.  It has made this life of hers normal.  We had to drag her away kicking and screaming to get her echo, promising to return later.  Not too long ago, I dreamed of her having the energy to be able to do that.
So, this one last step of her Fontan is complete.  It's a rather odd, but amazing feeling.  What a miracle my sweet girl is.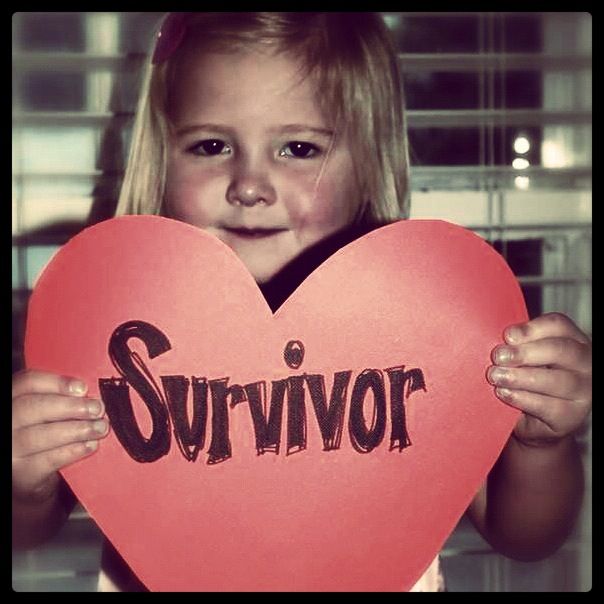 3 Comments