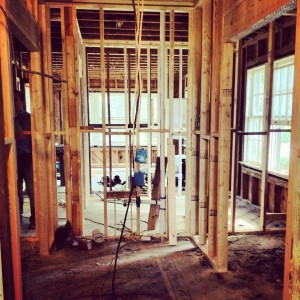 A conversation between my hubby and me last Friday night went something like this:
Mel: So, did I tell you the builder starts on Monday?
Me: The builder you met with today?  As in today is Friday and we pack the entire house up and move out somewhere by Sunday?
Mel:   Yeah, I can ask Mom if we can move in.  I'm working all weekend.
So, last week we started school, dance, gymnastics, moved out, packed up the entire house, moved in with Mimi and Bapa and gutted the house.
This week, while the house renovations move at record speed, MC has her heart cath.
I'm just holding my breath waiting for Mel to tell me he's decided to open a sandwich shop or something.
2 Comments